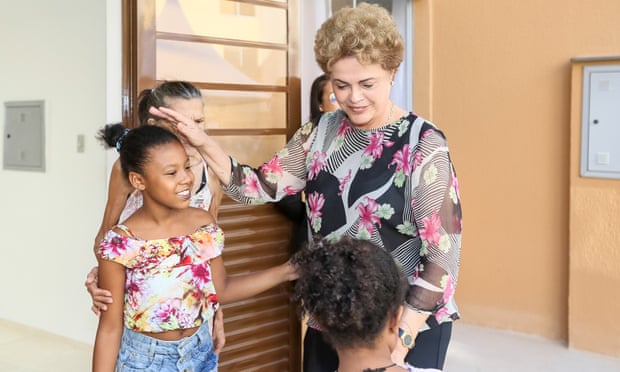 Brazilian President Dilma Rousseff with children in Rio de Janeiro last week.
Photograph: Roberto Stuckert Filho/AFP/Getty Images
Letters. Monday 11 April 2016 17.24 BST; Last modified on Monday 11 April 2016 22.00 BST
We are extremely concerned about the sustained efforts by sections of Brazil's rightwing opposition to destabilise – and ultimately overthrow – its constitutional and elected government, including through
attempting to impeach President Dilma Rousseff
. This campaign has involved demonstrations for "regime change" through the ousting of the president before the end of her term. These have even included overt calls for the military to carry out a coup d'état.
There is also a crude campaign aimed at discrediting former president Luiz Inacio Lula da Silva, whom Dilma is seeking to appoint as a minister in her government. The aim here seems to be not only to oust Dilma but also legally bar Lula as a potential presidential candidate in 2018.
Meanwhile, trade unions and social movements have denounced examples of physical aggression against government supporters. We oppose this
golpista
attempt, echo the support for Brazil being given by the Union of South American Nations, and defend Brazilian democracy.
Brian Eno
Michael Mansfield QC
Dr Francisco Dominguez
Head of Latin American and Brazilian studies research group, Middlesex University
Grahame Morris MP
Kelvin Hopkins MP
Roger Godsiff MP
Jeff Cuthbert AM
Welsh national assembly member
Manuel Cortes
General secretary, TSSA
Doug Nicholls
General secretary, GFTU
Mick Cash
General secretary, RMT
Kevin Courtney
Deputy general secretary, National Union of Teachers
Tony Burke
Assistant general secretary, Unite the Union
Dr Derek Wall
International coordinator, Green party of England and Wales
Salma Yaqoob
Martin Mayer
Labour party national executive committee member
Dr Julia Buxton
Central European University
Oscar Guardiola-Rivera Birkbeck
,
University of London
Francisco Panizza
Professor in Latin American and comparative politics, LSE
Dr Peter Hallward
Professor, Kingston University
• Join the debate – email
guardian.letters@theguardian.com